Air Conditioning Cleaning Sydney: Boost Your System's Efficiency Today!
Aircon Cleaning With SmartWay
Fully licensed and insured
Being fully licensed and insured is essential for any business to ensure they are legally compliant.
Being fully licensed and insured is essential for any business to ensure they are legally compliant.
Being fully licensed and insured is essential for any business to ensure they are legally compliant.
Experience the Difference: Expert Air Conditioner Cleaning for Optimal Performance
Comprehensive Air Conditioning System Cleaning
At Smartway Airconditioning, we understand that a clean air conditioning system is essential for optimal efficiency and air quality. Our team of certified HVAC professionals is skilled in cleaning various air conditioners, including ducted air, split system, and ducted systems. We take pride in delivering exceptional service to our customers in Sydney.
Improve Your Air Conditioner's Efficiency With the Leading Air Conditioning Cleaning Sydney
A clean air conditioning system can significantly increase its efficiency. Dirt, dust, and bacteria can accumulate within your unit, causing your air conditioner to work harder and consume more energy. Our air conditioning cleaning services in Sydney include thoroughly cleaning internal and external components, ensuring your system runs at peak performance.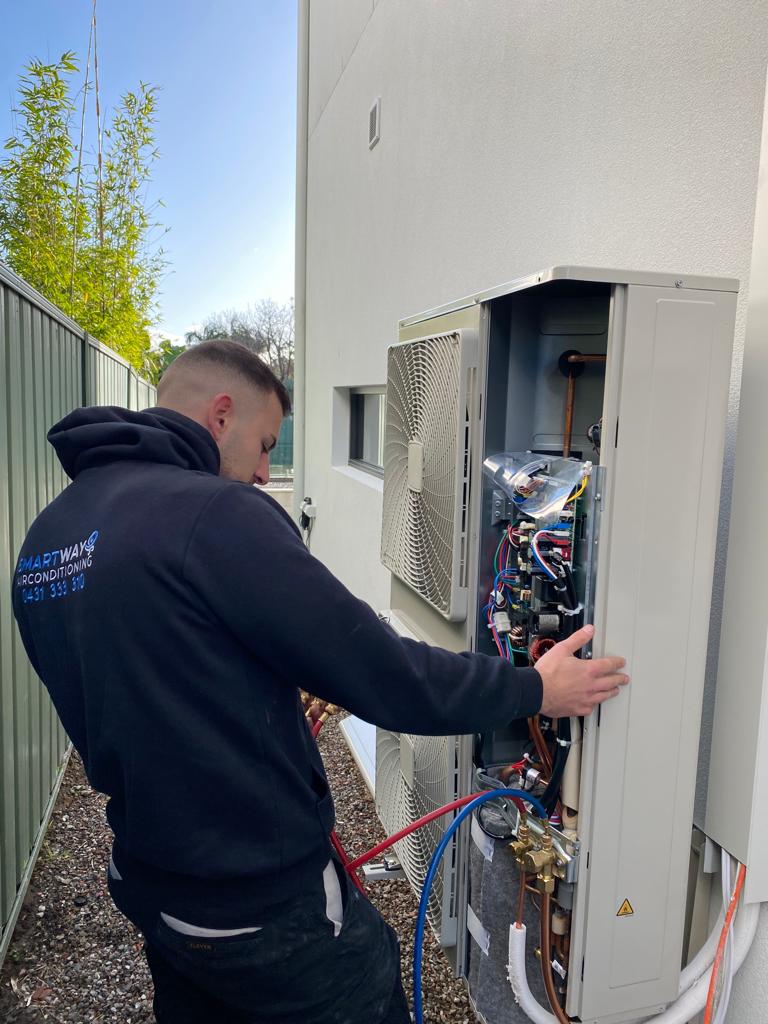 Serving Sydney For 30 plus years
Mould Removal and Prevention: Cleaning The Proper Way
Mould can be a significant issue in air conditioning units, leading to health risks and reduced efficiency. Our professional mould removal services target the root of the problem, ensuring complete elimination and preventing future growth with one well detailed cleaning process.
Air Purification, Duct Cleaning Sydney and Air Conditioner Cleaning
Our duct cleaning services help eliminate bacteria, dust, and allergens from your air conditioning system. You and your family can breathe easier and enjoy a healthier home environment with cleaner air.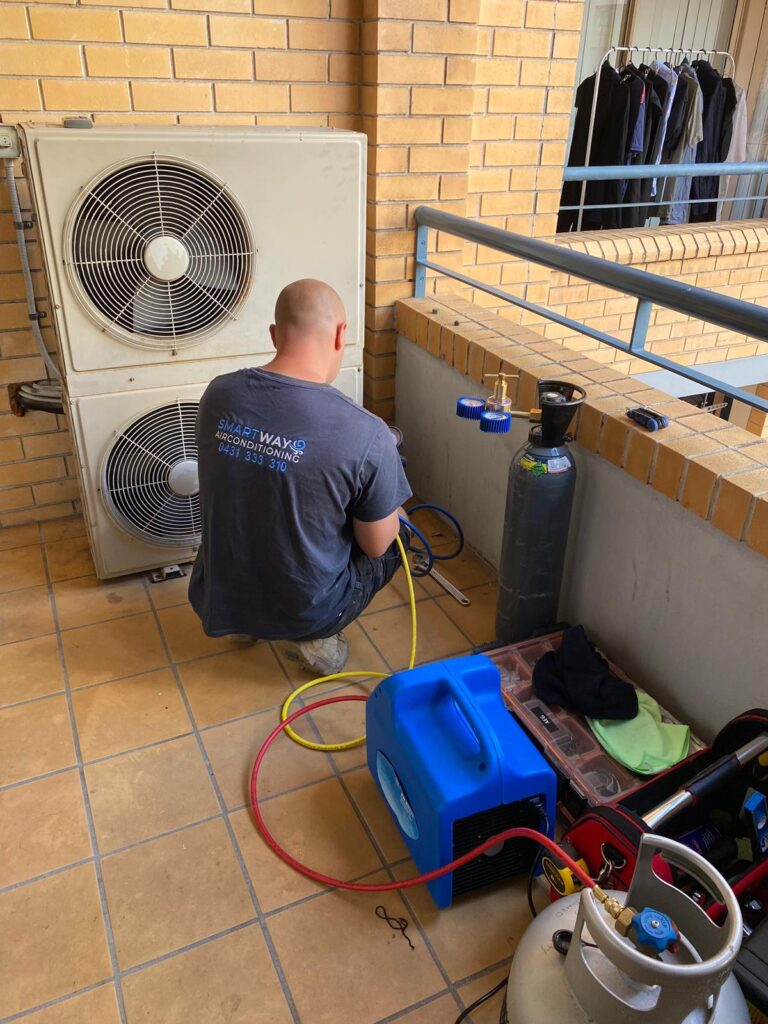 about Smartway Airconditioning
Leading Air Con Cleaning Services
We use state-of-the-art equipment and techniques to clean Sydney air conditioners thoroughly. Our team ensures your air conditioning unit is cleaned, disinfected, and free from bacteria, mould, and dust.
Split System and Ducted Aircon Cleaning
Our split system and ducted air conditioning cleaning services in Sydney focus on every component of your system, from filters to coils, ensuring optimal cleanliness and efficiency—Trust Smartway Airconditioning for all your air conditioner cleaning needs.
Expert Service and Repairs
In addition to our air conditioning cleaning services, we offer expert repairs and maintenance for your system. Our team of professionals is dedicated to keeping your air conditioner running smoothly, ensuring you stay comfortable all year round.
Why Choose Smartway Air Conditioning for Your Air Conditioning Cleaning in Sydney?
At Smartway Airconditioning, we are committed to providing Sydney's highest-quality air conditioning cleaning services. With over 30 years of experience, our team of skilled HVAC professionals is equipped to handle any air conditioning cleaning job, big or small. We prioritize customer satisfaction, and our countless happy customers are a testament to our dedication and expertise.
Don't wait another day to boost your air conditioning system's efficiency and improve your home's air quality. Contact Smartway Airconditioning for professional Air Conditioning Cleaning Sydney services and experience the difference a clean system can make.
Get Ac Cleaned The Smartway Air Conditioning Difference
Choosing Smartway Airconditioning for your air conditioning cleaning in Sydney means selecting a company with a proven track record of excellence. Here's what sets us apart from the competition:
Experienced and Certified Technicians
Our team of Aircon professionals is experienced and certified to handle a wide range of air conditioning systems. With their expertise and commitment to quality, you can trust that your air conditioner is in the best hands.
Customized Cleaning Solutions
At Smartway Air Conditioning, we understand that every air conditioning system is unique, so we tailor our cleaning services to meet the specific needs of your unit. Our comprehensive approach ensures that your system is thoroughly cleaned for optimal performance.
Competitive Pricing and Transparent Quotes
We provide top-quality air conditioning cleaning services at competitive prices. Our transparent quotes ensure you know exactly what you're paying for, with no hidden fees or surprises.
Prompt and Reliable Service
Your time is valuable, so we prioritize punctuality and reliability. Our team works efficiently to complete your air conditioning cleaning in Sydney, ensuring minimal disruption to your day.
Schedule Your Air Conditioning Clean Today!
Don't let dirt, dust, and bacteria compromise the efficiency and air quality of your air conditioning system. With Smartway Air conditioning's professional Air con Cleaning services, you can enjoy improved performance, increased energy savings, and a healthier home environment. When it comes to cleaning we are the leading company in Sydney. So call today.

Contact us today to schedule an appointment with our expert team and experience the difference a clean and efficient air con cleaning can make in your home. Trust Smartway Air Conditioning for the best air conditioning cleaning Sydney has to offer!
These days it's so hard to find someone who will be honest with you, rather than just be after your money. I called the team today to ask if they could look at our AC panel as one of the buttons is not working, he asked what model and said we don't deal with that brand. The gentleman was so kid. And lovely he went on to say that whilst he doesn't do LG that if one button is not working chances are it needs to be replaced, recommended I don't waste time on a call out and diagnosis and just to order a new panel. I was so amazed, there was no gain for this gentleman, he was just willing to help. If this is the service that you get for not even paying I could just imagine how amazing they would be if you were paying for the service. Highly recommend. Thank you Smartway AC for being so kind and helpful.
rebecca ziflian
2023-02-03
Ken and his team installed an air conditioner in my business. It was a small job and that can occasionally create difficulties due to lack of interest from many trades people who prefer the big stuff. Ken took my small job seriously. He turned up on time, was clean and purely professional. He left the room in a lovely clean condition. He was a pleasure to have around....and the air conditioner works perfectly in the space. I recommend Ken highly to anyone looking for an air-conditioning installation expert.
Dr Rachel Mascord
2023-01-25
Great service.
Ken is so responsive and pleasant to deal with. He is very knowledgeable and saved us from replacing all our units unnecessarily. Great deep clean of our existing units and very happy with it so far.
These guys are awesome. Professional, friendly, efficient, and knowledgeable. They were able to get me a quote quickly and delivered exactly what they said will deliver. Punctual and they tidied up before leaving. I would recommend Ken and his team to everyone ☺️ thank you for all your work!
Great service, vastly knowledgeable and an amazing team to work with, super efficient and really customises to your specific needs. Can't recommend them enough!
Ken and his team were really helpful in answering my questions regarding what system was most efficient and of best value. I ended up choosing the 7.1KW Heavy Industries Bronte Split System by Mitsubishi. The installation of the product by Ken was professional and of high standard. Highly recommend his services!
ammar elmouhager
2022-12-30
I was very happy with the service I received from the very start with Ken. He ensured that he would supply what I needed, on time. He remained very professional and friendly right until the end. I will definitely be using him and his company for all future projects. I Would highly recommend. Thanks again, Anas.
I'm glad i went with Smartway Air Conditioning to install my AC. They came on time and did a nice clean job without any hassle. Perfect service. They cleaned and left my apartment exactly how they found it. Would recommend to anyone.
Originally called Ken over for a 2nd opinion to replace an existing AC unit at my house and he was so thorough with the consultation that I ended going with him instead. He is very knowledgable and offered a much more reasonable price. Highly recommend!